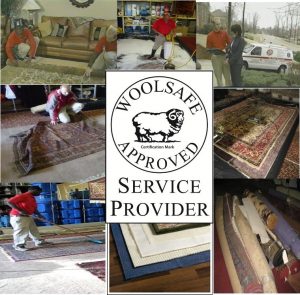 Rug Cleaning Services
Wool safe approved fabric care specialist
Hand Knotted, Needlepoint, and Machine Made
Typical 2 week turn around
All Rugs Insured
Drop Off and Pick Up Discounts available
Fringe Cleaning and Brightening
Moth Deterrent Available
Premium Rug Pads by Dura-Hold—custom cut and installed
Urine and Pet treatment
We offer in shop cleaning with pickup and delivery available as well as an in-home maintenance program for your rugs.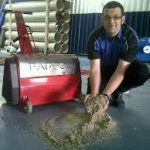 Why Is Dry Soil Removal So Important?         
This loose grit wreaks havoc on you rug's delicate fibers, causing a cutting abrasive action as you walk on the rug. This is called abrasion. Abrasion accounts for fiber loss and embedded soil stains.
 Spot & Pre Conditioning
 After dry soil removal, spot and pre-conditioning treatments are applied. It is important to pre-condition so that oils and spots can be easily removed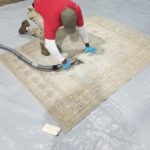 The Difference Between a Spot and a Stain…
A spot is a foreign substance in the fabric that can be treated and removed.
A stain is something in or on the fabric that has transferred color and can not be completely removed.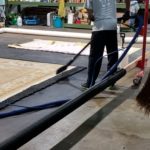 Methods We Use When Cleaning a Rug
Using  water extraction, we can guarantee the most thorough removal of contaminates. This process extracts soils then rinses and vacuums soils away.
Sometimes the only method that will work is called water immersion. This method would be used on a rug heavily contaminated with urine, damage from fire and smoke, cigarette residues, or when wet by rain or sewer damage. After a soak in the pit, we can use a low pressure sprayer to spray heavy soils into a wet vacuum. Then proceed with our wand cleaning using water extraction method.
After any rug cleaning, we also do a final rinse. Rinsing allows the leftover detergent residues to be lifted away from the rug. Detergents left in the fibers can cause detritions of the dyes. A final rinse also allows for a most thorough process of dry soil removal.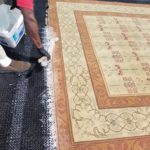 Fringe Cleaning
Rugs with fringe sometimes can be hard to deal with! Sometimes after cleaning the fringe, the flaws of ragged yarns are more visible. We pay special attention to cleaning fringes and removing soils, along with grooming for a finished touch. We guarantee the fringes will have the most thorough soil and spot removal possible.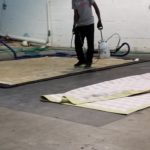 Rug Protectant
Each Rug cleaned in our rug spa is coated with rug protectant. Scotchgard protectant for rugs surrounds the fibers with an invisible barrier that protects against oils and water-based stains.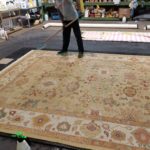 Grooming the Rug
We groom the rug after cleaning and after applying protectant. Grooming will make your rug look its best and will allow the protectant to be distributed evenly on each individual fiber.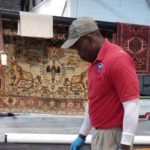 Drying
We have a drying room where blowers are strategically placed for indoor controlled drying. After the rug has completely dried, we will wrap rug for delivery or storage.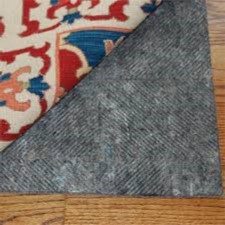 Rug Pad                                                                                             
A pad will minimize slippage; it will increase the life of the rug. A pad will make the rugs feel thicker and more luxurious. A pad will smooth out irregularities in the floor. A pad will absorb noise. A pad will salvage wear and tear underneath.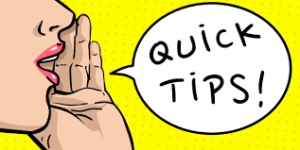 Customer Care Tips
Vacuum rug regularly to remove dry soils. Gritty soil can be tracked indoors and scratch and cut the rug. Make one vacuum pass on each end across the width of the rug to avoid fringe damage.
Spills should be blotted immediately. Do not scrub in a circle motion. Do not use any products not made specifically for your rug. Store bought spotters can damage the dyes in natural fiber rugs.
To prevent uneven wear and light fading, turn your rug at least once a year. And this can prevent texture changes in your rug.
If a rug is to be stored for a long period of time, use a sheet or cloth to wrap it, but do not use air tight plastic bag. Do not store rugs in a humid, damp, warm or poorly ventilated room.
Call To The RESCUE  at 205-252-5326 to preform proper and timely maintenance.